News Blog




Here's some of the latest news about our shows, dates, the ocassional road trip, and other events involving the actors. Please check back frequently for new posts and comments. We would appreciate any visitor interaction; please use the comment form under each post to contribute.
---
January 13, 2023 | Mike Millar | No Comments |
It's been a while since we've done any Public shows, but as everyone adapts to this new reality and things open up, we're happy to announce our first public show will be at the Cambridge Hotel and Conference Centre, Feb 10th 2023, just in time for Valentine's Day! Ddoors open at 6 and the show, Big Al's Birthday will start at 6:30.
For tickets and reservations call 519 624 7750.
We look forward to seeing you!
October 5, 2022 | Mike Millar | No Comments |
We're planning to start up our CHRISTMAS Shows in Brantford again! We started doing them in Brantford 32 years ago. Boy, that flew by...If you're a small business and are looking for ideas for a staff party and can't afford a show of your own, you could join other groups celebrating together at The Best Western in Brantford. The dates we're looking at are to be decided among December 9th, 11th, 16th or 18th. To arrange a booking you can call Tianna at the Best Western at 519 753 8652 ext 138 or if you're looking for a private show you can contact me, Mike at 905 544 5628. The show is to be decided, but it's going to be fun!
September 24, 2022 | Carol Riddell | No Comments | #news
As people adapt to this new pandemic reality and more people are vaccinated, we're starting to get more bookings for Christmas again! It feels like the end is in sight. We've started doing more private shows and not only are our performers fully vaccinated so are the venues we perform at! Looking forward to seeing everyone again, it's been too long, but glad everyone is safe. Not yet sure about any Public Christmas Shows, but if we book some, we'll post them on our site as soon as possible! Stay Safe!
October 26, 2021 | Carol Riddell | No Comments |
Please note, the Innisfil show at The Stone Grille's date has been changed to JANUARY 29th! It's a late start, 8PM so dinner will start by 8:30!
Also, the January show at Traditions Banquet Hall in Barrie has also been changed to MARCH 19th from it's previous date in January.
October 21, 2021 | Carol Riddell | No Comments | #news
We've just switched our show date at Traditions to March 19th 2022. Almost a St Paddy's day show!
January 14, 2017 | Carol Riddell | No Comments | #news
Tonight! Are you in - or near - Toronto?
(Bad Dog Theatre Company, 875 Bloor St. W.)
Do you love Comedy? And/or the NFL?
Here's a show for you! "It's hard to say what is more exciting about the first 2017 edition of Tonight's the Night! with Dave Barclay (Toronto's Premiere Live Late Night Talk Show), the fact that the King of Canadian Comedy, Mark Little, will be present to perform and be interviewed by me with my trademark "oddball" queries?

Or, is the more exciting thing that we are convening a panel of NFL Experts to pitch me a new team to be a fan of? I should explain that my current favourite team, the San Diego Chargers, may be moving to Los Angeles, thus releasing me from fandom obligations and making me a free agent of sorts in the realm of Americaball.

We have representatives from the fanbases of
1) The Best team in the NFL, the New England Patriots (represented by Lauren Messervey)
2) The worst team in the NFL, the Cleveland Browns (represented by Ned Petrie)
3) The most skull-associated team in the NFL, the Oakland Raiders (represented by Phil Moorhead)

We'll also have the usual topical monologue, fun hijinks and thrills that come on every Tonight's the Night! Come on down after you're finsihed doing whatever you do on Saturdays!" Dave Barclay's not only a super-smart nice guy, he's a great comedian and comedy writer. Check him out ASAP!
January 14, 2017 | Carol Riddell | No Comments | #news
TONIGHT: If you're in - or near - Brantford, you should get out to this show: Abbamania, Adele, Cher, Bowie, McCartney & BeeGees.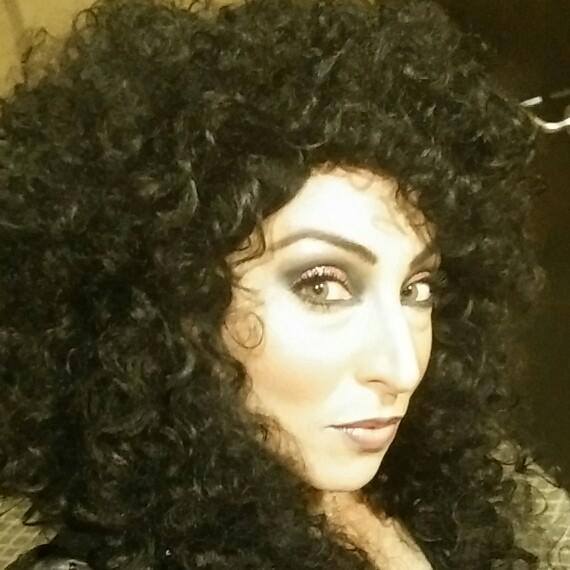 Kara's awesome: When we first worked with her, she was a little teeny-bopper with a big personality, a beautiful voice, and super comic timing! She just keeps getting better :)
Over the past few years, Kara's created this Cher Tribute that you just have to see. She's also done Bette Midler, Barbra Streisand, Agnetha Faltskog, from ABBA, and Lady Gaga (I can't wait to catch that show). Kara's been touring all across Canada, into the US, and will be playing on the Mexican Riviera in February (Lucky duck!)
Here's some press Kara got: (click and hold to highlight for easier reading) With her uncanny resemblance to the famous star and with 10 years of theatrical experience in musicals behind her, Kara Chandler personifies Cher without any difficulty at all. She embodies the living legend on stage in a way like no other can. Now, after 6 years performing her Cher - Believe show in dinner theatres, casinos and concert halls, Kara has built a reputation as one of the top Cher tribute artists in the world. Her combination of boundless energy, charisma and talent lets her easily morph into her alter ego Cher and give audiences the powerful and unforgettable experience that only a true star is capable of giving. Like Cher, Kara Chandler is an entertainer of the highest order.
Fortunately for us, she still makes time to come out and play in the mysteries once in a while!
January 14, 2017 | Carol Riddell | No Comments | #news
THE UGLY DUCKTHING
Based on the story by Hans Christian Andersen
Featuring: Marty Stelnick and Angelique Millar Stelnick
Ages 4 to 94
Solar Stage Children's Theatre
4950 Yonge Street, Box 115, The Madison Centre
Toronto, Ontario, M2N 6K1
416-368-8031 • solarstage@bellnet.ca
November 11, 2016 | Carol Riddell | No Comments | #news
The Butler Did It?
November 10, 2016 | Carol Riddell | | #news
This is Frank Foley.
Come see him in: Murder on the Air!